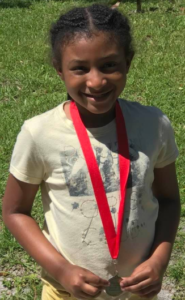 Zoey (not her real name) was an expert at getting others to read to her. By second grade she was reading at Kindergarten level. At the end of second grade she was reading at fourth grade level and received this medal from Step Up For Students for most improved. Less than 1% of Step Up students get this medal and Zoey was one!
She reads on her own now. She no longer needs to manipulate anyone to read to her. Rocket Phonics brought her to grade level and I believe it was having her brother Tony read better than her that really motivated her.
This award is just a reflection of her transformation and a life saved. Students who don't read at grade level by third grade have a 50% unemployment rate. Zoey no longer has that destiny.